Strolling Kanazawa in Rental Kimono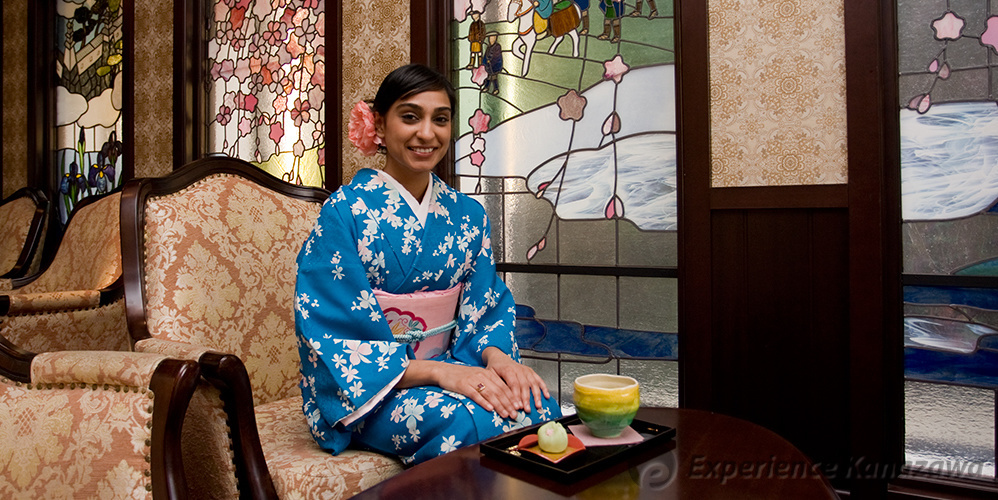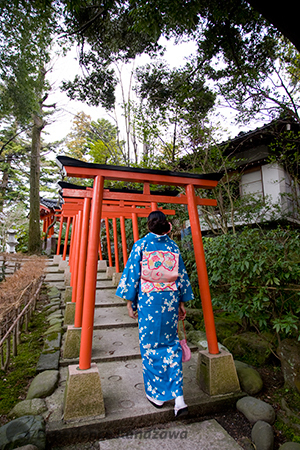 They have an elegant slightly 'pigeon-toed' walk, where the foot is never taken far off from the ground.
Typically kimonos are worn for special occasions such as weddings, festivals, and ceremonies. Some older women wear them every day.
Being bonded in the kimono I could now understand how Japanese women walk, even when they are not wearing a kimono. They have an elegant slightly 'pigeon-toed' walk, where the foot is never taken far off from the ground. When walking in a kimono one does not lift their feet off the ground, instead a shuffling motion is better attributed to getting around.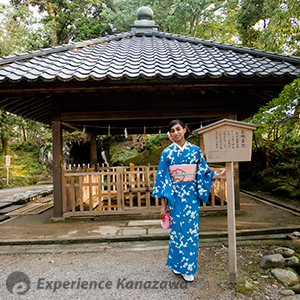 ---
I stopped for some matcha or green tea at a hotel named Kanazawa Hakuchoro Hotel and marveled at the fine architecture of the place.

This was met with anumber of glances from curious on lookers in the lobby.
Feeling very special leaving the hotel, I was a bit nervous on the street. Obviously, being a foreigner I wondered what Japanese people were actually thinking when they saw me wearing their traditional clothing. But, I was feeling so feminine and elegant that I let the worries wash over me. To my surprise I saw some side smiles and surprised faces as I walked by. I felt like a princess. Walking through Kanazawa castle, I imaged this was my home and I was taking a stroll in the garden.
---
Walking in and around the castle and garden I was met with more curious faces.

Japanese people are far too polite to stop and stare and I took their quick yet intense glances as a sign that they were intrigued by the sight of a foreigner wearing a kimono. I hoped that they saw it as an outsider trying to embrace and understand their culture. Some cell phones were pulled out and a quick picture from a far was taken of me and I was even so blessed to hear someone shout "beautiful" in English. I really did feel beautiful in the kimono and have much more respect for the women that wear them often. Shuffling around with a beaming smile on my face we headed back to the shop. At this point I was very comfortable in the kimono as I felt I had assimilated to Japanese culture well. I almost didn't want to take it off, but my body was singing a different tune.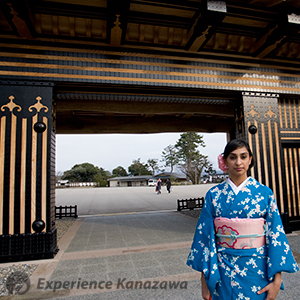 It's hard work! When I was done strolling and it was time to take it off Haruka was so gentle in helping to untie, unravel and unclip everything. My back was slightly sore but having that obi on my back helped with correcting my apparently poor posture.
*
This whole experience from the beginning to the end was one filled with laughter, wonder, magic, beauty and understanding. Kokoyui the rental kimono shop, does group events as well as fitting for men and children. I was so grateful for the opportunity and it was an experience I will never forget. Conveniently located near Kanazawa Station, I would highly recommend anyone who would like to experience Japanese elegance to visit Kokoyui in Kanazawa . Tell her I sent you ;)
Rajie Kabli / Published: March 30, 2011