Enyukai: The Geisha Party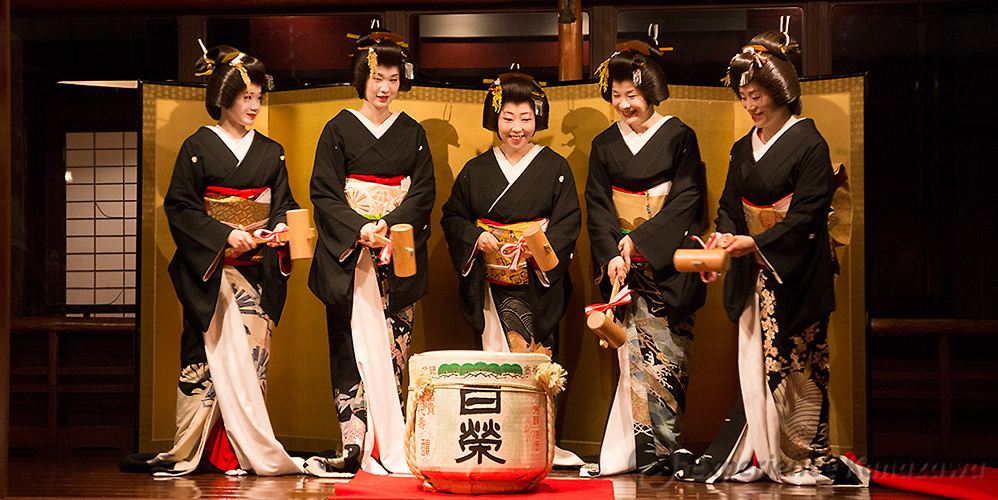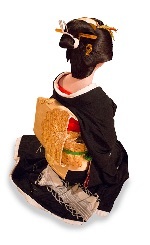 Geisha in full regalia, floating like fantastic seagulls

Kneeling or sitting on our comfortable cushions lined up against the red and blue painted walls of the large Japanese-style room, gazing hungrily at the gorgeously prepared meal laid out before each of us, my fellow guests and I beheld the spectacle that we had all come to see: five Japanese geisha in full regalia, floating like fantastic seagulls across the sea of tatami mats in the center of the room.

Rick Broadaway; Published March 31, 2014
Enyukai: The Geisha Party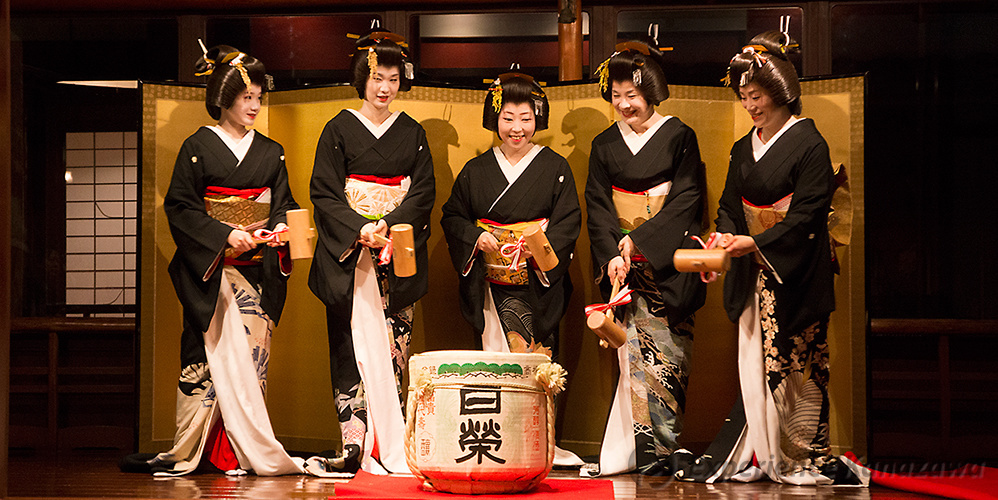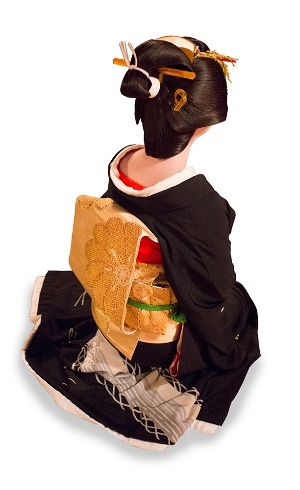 Geisha in full regalia, floating like fantastic seagulls

Kneeling or sitting on our comfortable cushions lined up against the red and blue painted walls of the large Japanese-style room, gazing hungrily at the gorgeously prepared meal laid out before each of us, my fellow guests and I beheld the spectacle that we had all come to see: five Japanese geisha in full regalia, floating like fantastic seagulls across the sea of tatami mats in the center of the room.

Rick Broadaway; Published March 31, 2014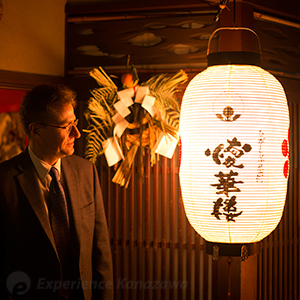 "Enyuukai" held at the Kaikaro Teahouse

Winter is the season of snow and ice in Hokuriku, the North Country, as this part of Japan is known. And it is also the time for the first of five annual "enyukai," held at the Kaikaro Teahouse in Kanazawa. Enyukai refers to a kind of evening party with geisha in attendance. It was my first time to have such an experience, and I was looking forward to it with great anticipation as I walked through the snowy streets of the Higashi Chaya District, a historic area of teahouses that used to serve as a playground for samurai and others males of the elite classes. Finally, I found the large paper lantern that marked the entrance to Kaikaro. With the help of my host I was able to read the three Chinese characters painted in black on the lantern—kaikaro, in my best cartoon English, becomes something like "House of Splendid Feelings."
As I slid open the lattice door and stepped inside, I wondered if the place would live up to its name.
I was greeted warmly and led into a waiting room with a large "irori," an open fire pit full of slow-burning embers covered in a conical pile of ash resembling Mt. Fuji. Several other guests were already there, some dressed in kimono. We were served tea and sipped it slowly, enjoying the warmth and nostalgia provided by this old-fashioned, smokeless heating system. "Tea," I mused. "They actually serve tea here."
When it was time to begin we were shown to the large wooden staircase leading to the second floor where the dinner show was to be held. The building itself was the kind of wooden post-and-beam construction typical in Japan, but the stairs were anything but typical.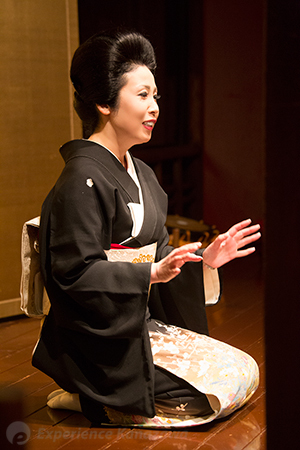 Painted lipstick red, they beckoned like the promise of a kiss.
The madame greeted us at the top of the stairs. The space was surprisingly large; all of the sliding "fusuma" doors had been removed to create a large area for entertaining. I found my cushion and lacquerware dinner setting near the front. "A place of honor?" I was wondering. Then I noticed the nice card printed with my name and a drawing of the American flag. Feeling like a foreign dignitary, I settled into my spot and took my glass in hand: the first geisha had already arrived to pour my drink. I gave her my broadest smile, and she demurely filled my glass to the brim. "Arigato," I said. She seemed relieved to know that I could speak Japanese, and we shared some playful banter before she moved on to mingle with the other guests.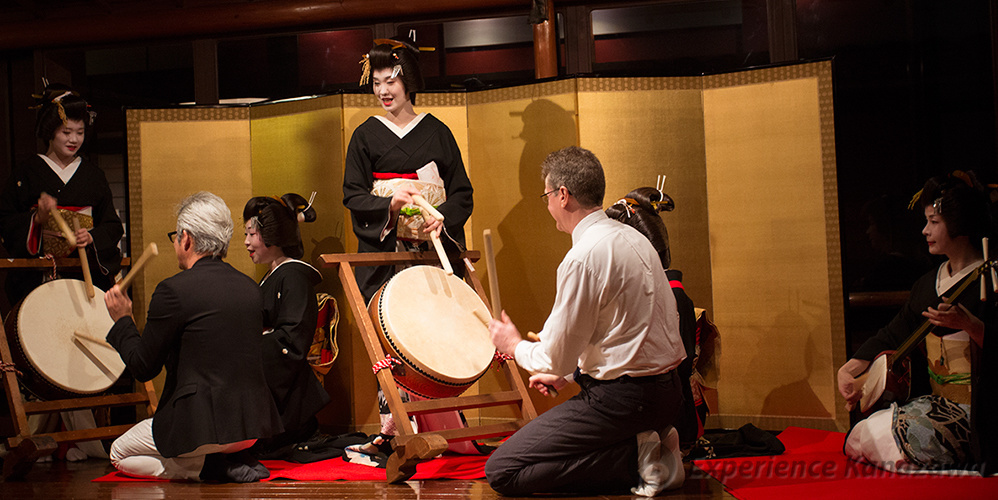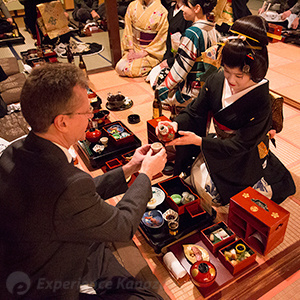 I was reminded that the "gei" in geisha means "technique."

Turning to the feast before me, I went from one small dish to the next, sampling a bit of each with my chopsticks. When I first came to Japan I used to refer to this kind of meal as a UFO meal, meaning a meal of unidentifiable food objects. For most humans, familiarity is an important factor in deciding whether or not a food is edible, and a natural wariness is normal. But, I have found that a sense of adventure is well rewarded when trying Japanese food for the first time. Without one exception, everything was delicious.
The geisha kicked off the evening's entertainment by breaking open a cask of sake with wooden mallets. And it was a good thing, too. A Japanese winter meal is just not the same without a little flask of warm sake. With a raised cup and a hearty "kampai" to my neighbors, I knocked back a couple of belly-warmers. A "splendid feeling" was indeed starting to flow through me. Just then, the geisha started their dance performance, accompanied by a single geisha playing the shamisen, a traditional stringed instrument.
Later, taiko drums were added to the ensemble.
Above all, it was the music, with its unusual scales and tones, that set the mood for the evening. It was as enchanting as one would expect. I was reminded that the "gei" in geisha means "technique." And it was obvious from their performance that they had trained long and hard for this evening. For the last number, they asked for volunteers from the audience to help beat the taiko. One geisha came to my side and very kindly volunteered me. I did my best considering my lack of rhythm. Nonetheless, all of the geisha agreed that my taiko performance was impeccable. But I have some reason to doubt their sincerity.
Returning to my seat, I found dessert waiting for me in a large two-tiered bowl. Removing the lid, I was surprised to see that it contained—gold! That's right! The top bowl was full of sweet molasses covered in a solid layer of gold leaf. Setting it to the side, I found the bottom bowl contained noodles of "kuzukiri" (a kind of tuber) on ice. The idea is to dip the noodles in the gold-covered molasses before eating them.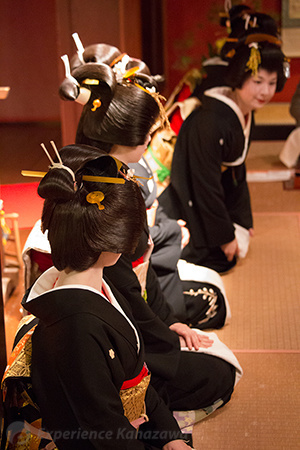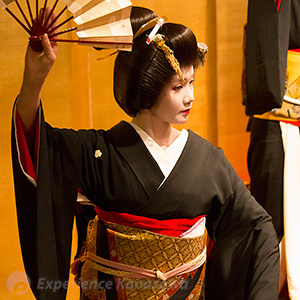 Some people might be worried about eating a heavy metal, but not to worry—gold is completely inert and passes right through one's system. Now I could truly say that I had a splendid feeling on the inside.
A geisha came to fill my glass and ask me how the dessert was. I said it was great as I finished off the very last tiny morsel, and then I took the opportunity to ask her why she became a geisha. Her reply was quite matter-of-fact. "Because it appeals to me," she said. Then, I asked her what was the most common question she gets asked as a geisha. "The one you just asked," she said with a grin. I really must try to be less predictable, I thought, if I have any intention of patronizing a geisha establishment in the future.
As I was leaving, the madame approached me and surprised me by speaking very good English. She saw me to the door and, bowing graciously, bid me farewell. My stomach full and my senses satiated, I buttoned up my coat and stepped out among the gently falling snowflakes. Simply splendid.
---
ENYUKAI 2018-2019 Schedule
Seasonal Party [2019]
Fee: 22,000 yen per person
*Tax, meals and beverages included in prices.
Spring: April 27 (Sat)
Autumn: November 23 (Sat)
Matsunouchi New Year Party [2020]
Fee: 28,000 yen per person
*Tax, meals and beverages included in prices.
New Year 01: January 11 (Sat)
New Year 02: January 12 (Sun)
Time: 18:30-20:00 (90 minutes)
*30 seats available per day. Reservation required. Seats fill up fast.
Place: Kaikaro
(Higashi Chayagai District: 1-14-8, Higashiyama, Kanazawa)
---
Payment: Advance Settlement
After getting your application form for booking, we will check the availability and send you a bill through the payment method "Square." The invoice will be sent by the name of our company, Artex Inc. Please use your credit card for payment. Until we get an "invoice paid confirmation" from Square, your seats will not be secured. When everything is prepared, we will send you a confirmation mail.
Booking Form

*If you can't get any automatic mail, a typing mistake of your email address can be considered. Please do it again!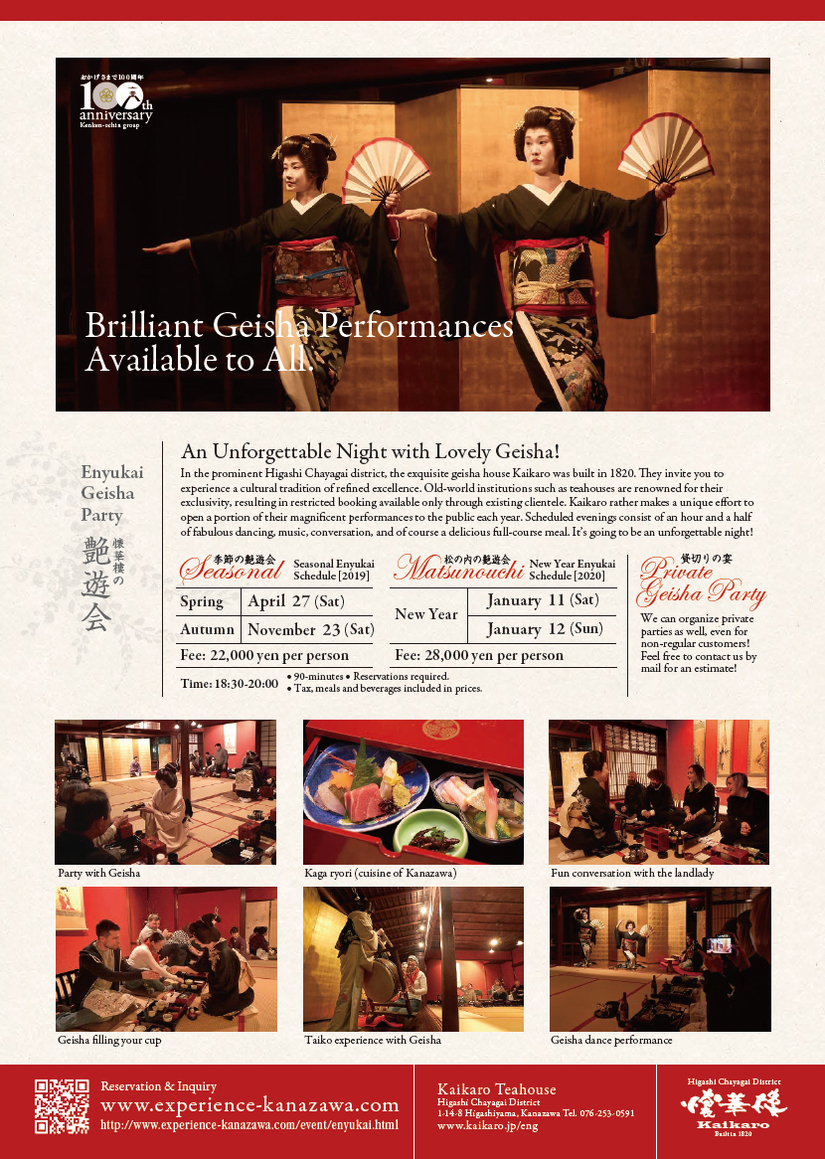 Enyukai Leaflet 2019 (PDF)