Kaga Yubinuki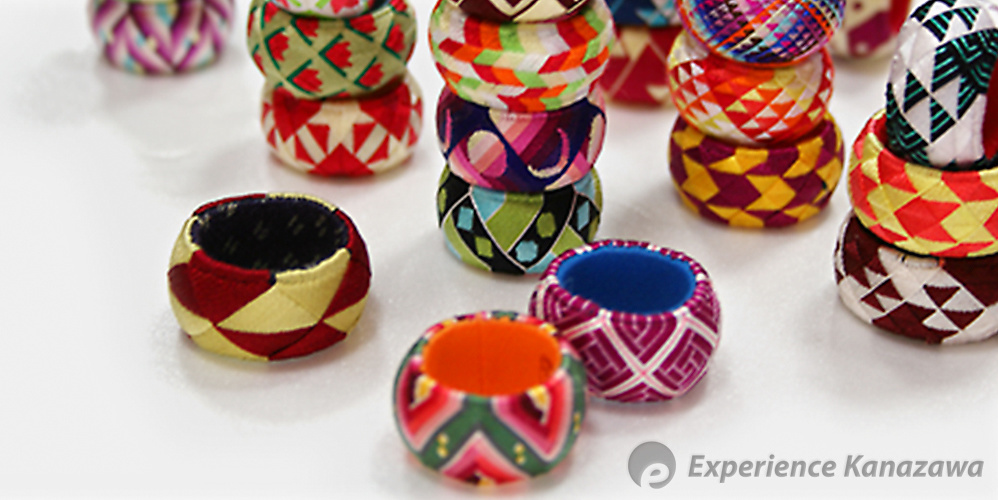 Not just a tool anymore, but a piece of art!

It all began when one of my friends learned the art from a young master a few years ago. Since then she quickly got into it, and has made so many thimbles! "For a person who has a different background, like me, the way to make both a Temari handball and Yubinuki thimble are so interesting." as said by my friend, originally from Peru. The young master is a daughter of the Kaga Temari handball master, Takako Koide.
Thimble: a small metal or plastic cap with a closed end, worn to protect the finger and push the needle in sewing (quotation from ODE). It's "just a useful article", you don't need a beautiful one for sewing work, do you? As a fan of tools, I'm always been inspired by such beautiful things when I create something. Although thimbles don't really have to be so colorful and beautiful, older Japanese girls must have happyly enjoyed sewing.
These days, girls don't need to sew very often, and as a result, many don't use sewing kits or know how to use a thimble. Instead of sewing, girls use those lovely thimbles as necklaces, fashionable rings, keyholders, cellphone straps, and more! It's not just a tool anymore, but a piece of art!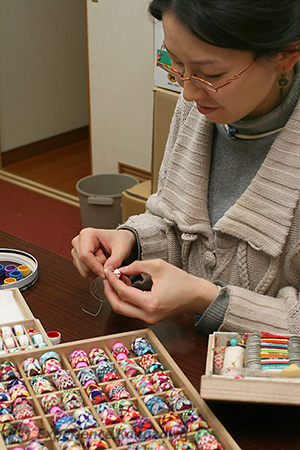 Kaga Yubinuki Master Yukiko Ohnishi
Kaga Yubinuki
with silk thin threads
Yukiko Ohnishi is well-known as the Kaga Yubinuki master, and has published a book about it. She learned from her grandmother (who is a grand master) how to make thimbles. Now, the younger master has a 10-year career of making thimbles, and teaches people the art in Kanazawa, Sapporo, and Osaka.
She showed me the frames in a small box made of paulownia. It seemed that she was ready to make another 15 thimbles! "It looks tough to create so many patterns, doesn't it?" I asked her. She answered with bright eyes, "Actually… it's so much fun to design them!"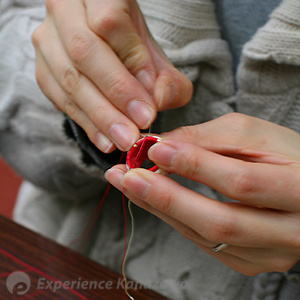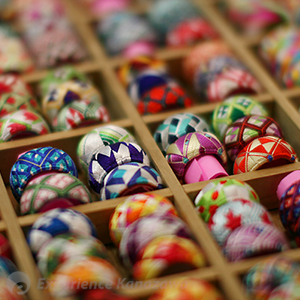 Making a thimble requires only small tools., so that it's easy to carry them anywhere. I'm even making them in the train!." Although traditional thimbles used to be made anywhere in Japan, those colorful Kaga Yubinuki with silk thin threads are outstanding! The process is similar to Kaga Temari handballs. Anyone can make their own unique design! How amazing! I'm a lucky girl! I've already received two Kaga Yubinuki from my friend as a birthday present. I'll definitely wear them around my neck with my choker!
By SHIZUO
Published: February 8, 2011