Yukidaruma Matsuri Festival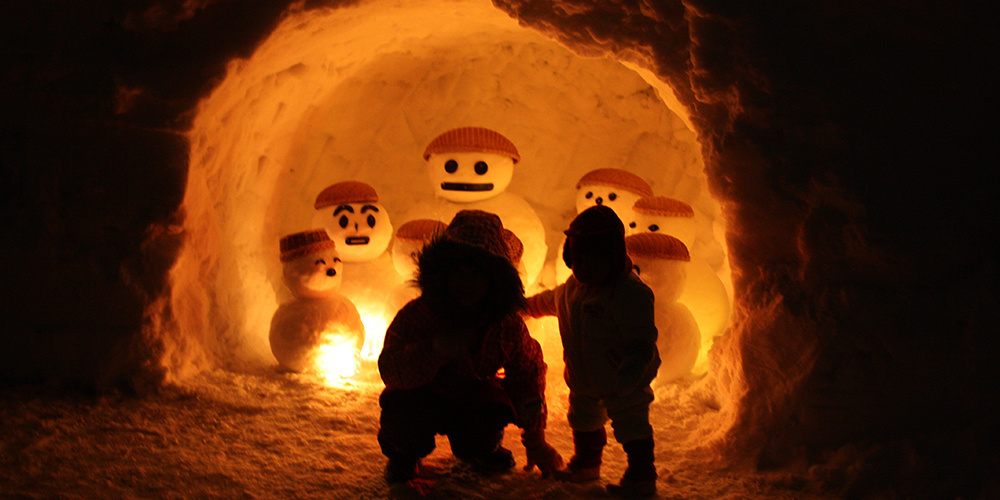 You'll never see such an innocent event!

Yuki-daruma means "snowman" in Japanese! Everybody who grew up with snow must have some memories of making snowmen. Do you remember how to make them? What did you use for their eyebrows? Everyone probably has their own ideas; with no one making them exactly the same! Both the Kuwajima and Shiramine districts have had snowmen festivals every winter since 1990. The districts are well-known for their heavy snowfall in Ishikawa prefecture!
"We get so much snow... Hey, why don't we try something fun with it?" That's how the festival started! It's said the original concept was to have all the residents make at least one snowman. Is that possible? Let's go to Shiramine to see the 23th annual festival and find out!

Coco SHIZUO, Artex Inc.; Updated June 1, 2018
Shiramine in the evening!
It was one of the coldest
days of winter!

It takes about about one hour to drive to the village from Kanazawa. This winter, we got more snow than expected, even in Kanazawa. I had gone to some ski resorts around the mountains for snowboarding, so I kind of knew how much snow to expect. However, Shiramine is located 20 minutes further out, almost at the prefectural border. I couldn't have predicted what we would find!
As we were arriving, we could see three-meter-high snow walls along route 157. However, we were impressed to see that the streets had been cleared! In Kanazawa, it was still tough to drive on the smaller streets due to the lack of shoveling. I guess they're really prepared for winter!

---
A population of less than 800!
Feel free to join in the fun!

We parked by following the instructions from the village people. You have to pay 500 yen for parking, but they give you a food ticket and a discount coupon for the hot spring. Can't complain! P2037159_600.jpgAs soon as we arrived at the heart of the village, we went to the bathroom and got some warm food. There was quite a bit of snow to walk through! You should prepare a warm jacket and a pair of pants you don't mind getting dirty, like ski clothes. It's really cold as you walk through these mountain areas at night!
Though the village is maze-like for visitors, they give you a lovely map. The map was really useful for finding our way back to the parking lot.
Shiramine has a population of less than 800 (recorded in December, 2011). I don't think it's possible for all the residents to make at least one snowman. After all, Shiramine is also one of those villages that suffers from a decrease in population. It must be difficult for the older people to make the snowmen. We could talk to two of them in the midst of the festival. "The original concept was to have each family make one showcase, containing as many snowmen as they have family members. It's become quite difficult recently." They said. "So how could you make so many Yuki-daruma?" I asked.
"Well... actually we ask university students from other regions like Kanazawa to volunteer, to help us make them." They continued. I suppose that makes sense. I hope that they can keep the village alive and keep the adorable festival forever!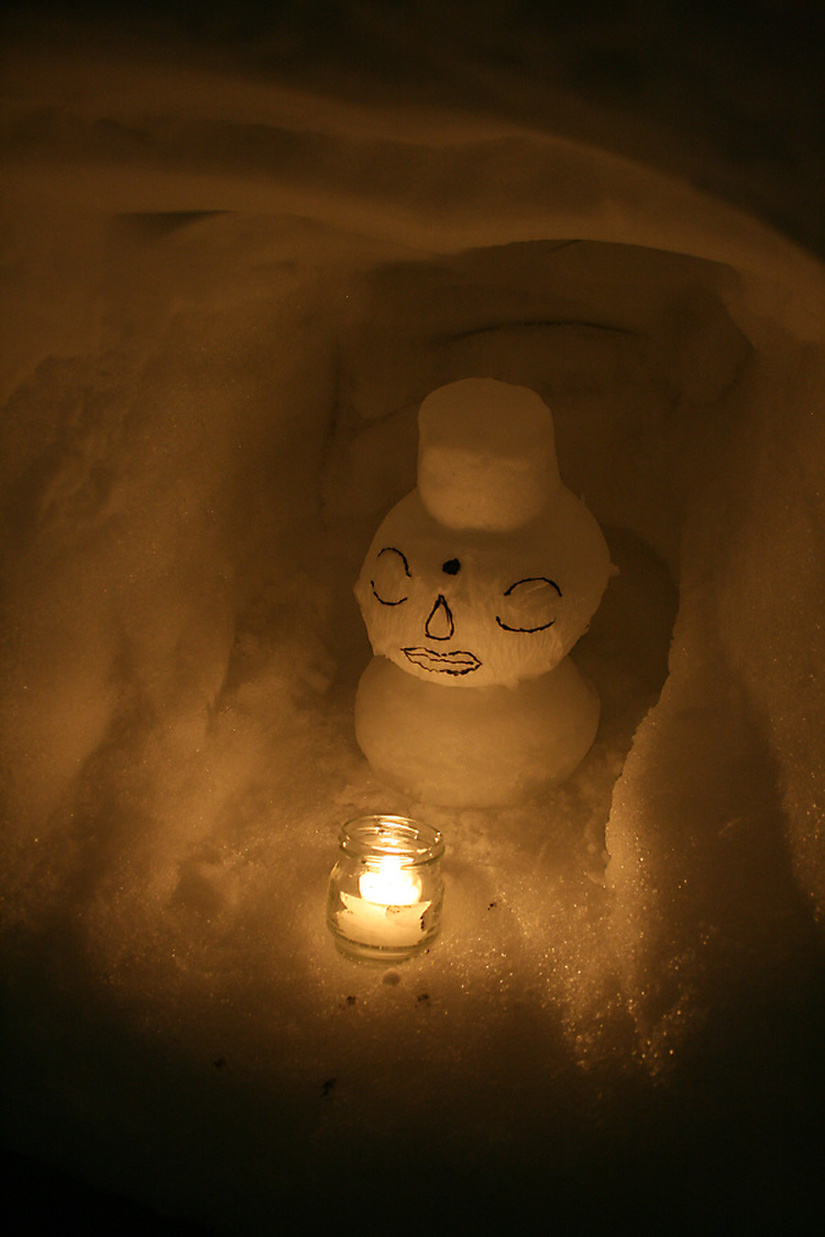 ---
Let's check the face of the snowmen! Some are very traditional, some are pretty novel!

When I saw the first snowman there, I was kind of surprised to see how it looked, actually! It had a Japanese-style animated face. "Interesting!" It turned out that there were a variety of styles, from traditional faces to novel ones. Some were huge, others tiny! Some snowmen were single, others were in a group.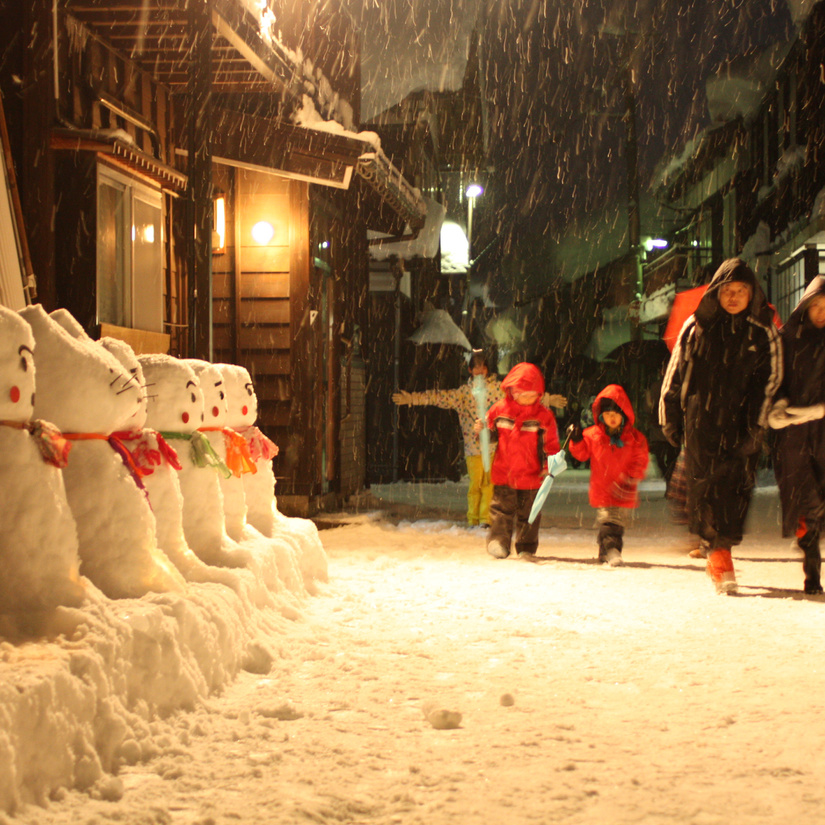 As I looked at each of them, I felt as if they were street O-Jizo-san (guardian deities of children). They seemed like something sacred, and I could see how the people made them with their whole heart! I had a personal favorite, of course! There was a snowman family surrounding a Kotatsu foot warmer with mikan (Japanese orange) in an igloo. Just like the Japanese good-old days! The maker even put in real oranges! Awesome!
---
Food stalls
and special
products
from the mountain area!

It was pretty cold moving through the mountain area, as I said before. Fortunately, there were 19 food stalls serving some warm snacks such as Tonjiru (miso soup with pork and vegetables), sausages, Zenzai (sweet red bean soup with rice cake), ramen, others. All of them good to keep your body warm! Around the stalls are some bonfires, allowing you to take a rest and warm up.
I ordered Inoshishi (wild pork) soup with Kata-Dofu. Kata-Dofu is a special product of the village. One of them served a Kuma Udon (Japanese noodle with bear meat) as well!
If you want to take a rest indoors, a cafe is also available! Even though I just glanced in the room through the window, it seemed cozy with Tatami floors. For those who don't feel like resting, there is a snow park with sliders just in front of the public hot spring. Take your kids, they will love it!
The festival is getting more popular year by year. If you stay at a B&B, you can make it an unforgettable experience!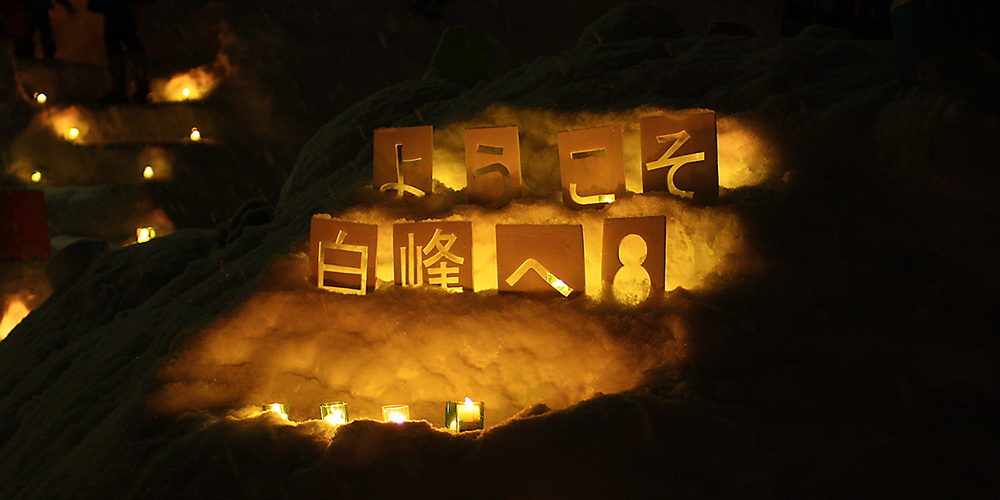 Place: Kuwajima and Shiramine districts in Hakusan city
Date: at the end of January and the beginning of February