Kutani Chawan Matsuri: Porcelain Market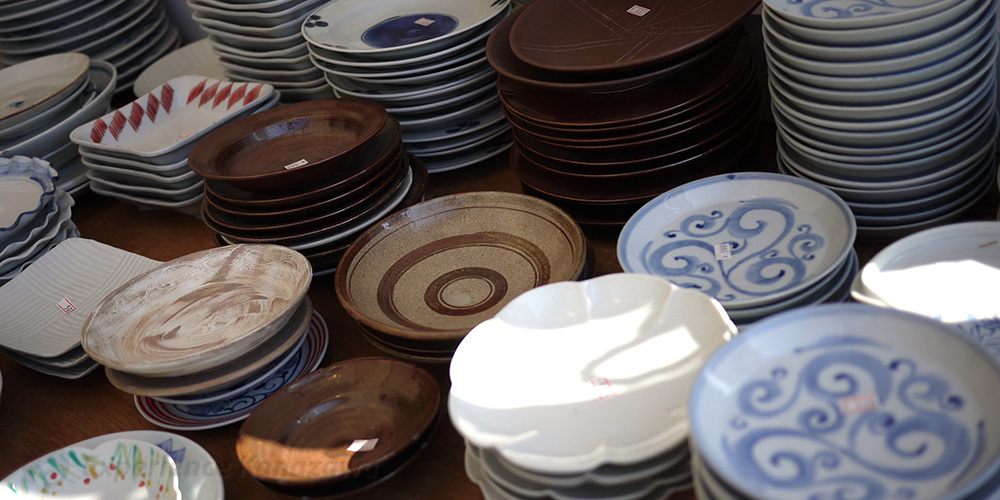 Ishikawa's Biggest Annual Outdoor Market Selling Kutani-Yaki porcelain!

Kutani-Yaki is indispensable ware for the local cuisine! There are some of the defining characteristics of different types of porcelain, such as Ko-Kutani-Fu (old Kutani line), Yoshidaya-Fu (Yoshidaya's line), Aka-E (red Kutani line), and etc. (See Kutani-Yaki article!) But if you want to find more, Kutani Chawan Matsuri is the proper event to visit! The annual outdoor market is held in Teraimachi, Nomi Ciry during Golden Week holidays. Many Kutani-Yaki firms and potteries sell their wares in Nomi City, and more than two hundred thousand people enjoy digging up something nice every year. You'll get a beautiful one you really love, and it might be dirt-cheap!

Coco SHIZUO, Artex Inc.; Updated June 27, 2018
Place: Kutani Tougei-mura (22, Minami, Izumidaimachi)
Dates: May 3-5 (day-1 and 2: 8:30-19:30 / day-3: 8:30-18:00)
How to get to Mikawa district of Hakusan City: JR Kanazawa Station >> JR Mikawa Station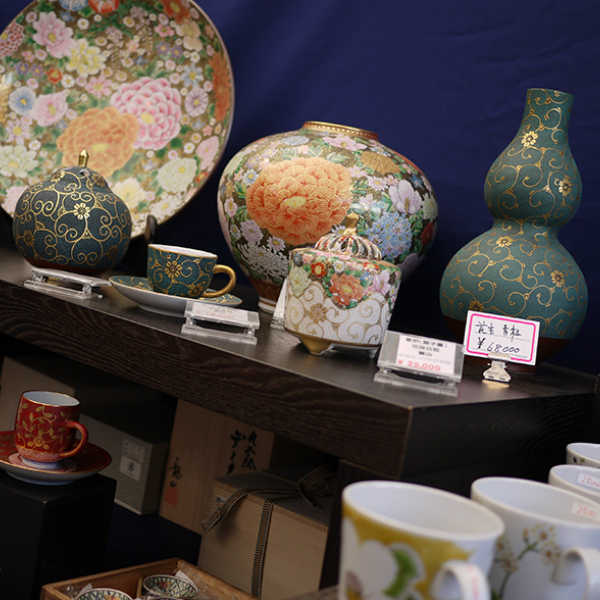 Dedicated to the founders of Kutani-Yaki

Kutani Chawan Matsuri originated as a tribute to two Kutani-Yaki founders, Shoza Kutani (1816-1883) and Saida Dohkai (1976-?). Some Kutani-Yaki firms and potteries started it in the Meiji era. Now it grew big and people from all over Japan visit this event every year. It goes without saying that they sell a great variety of Kutaniyaki wares. Masterpieces made by artists are for a feast to your eyes. Simple designs or affordable ones are for your daily use. If you love cooking Japanese dishes, the suitable tableware is necessary to complete your dishes, isn't it? Lucky ornaments, such as Maneki-neko (beckoning cats) or Fukurou (owls), are good as souvenirs for your family or friends. Well... let's buy a lucky ornament first for getting another lucky find!
The grounds are lined with a bunch of tents, and piles of affordable Kutani-Yaki wares are displayed. That's just overwhelming! Under the tents, people freely walk over their checks. So don't hesitate to walk in! Just be careful with those fragile articles! Carrying backpack might not be proper for the market as you guess!
As soon as you start checking at a stall, many articles of trade will be sold like cakes! Let's bargain over the prices! If you want something very Kutani, I recommend you to learn about the porcelain before getting there. At the open market, you will probably see both cheap and expensive in the same line, and might wonder why. Check the patterns to compare the qualities! So you can see how masterpiece's is beautiful. However, cheaper ones are also Kutani-Yaki, and not defective products at all. You'll find something good within your budget!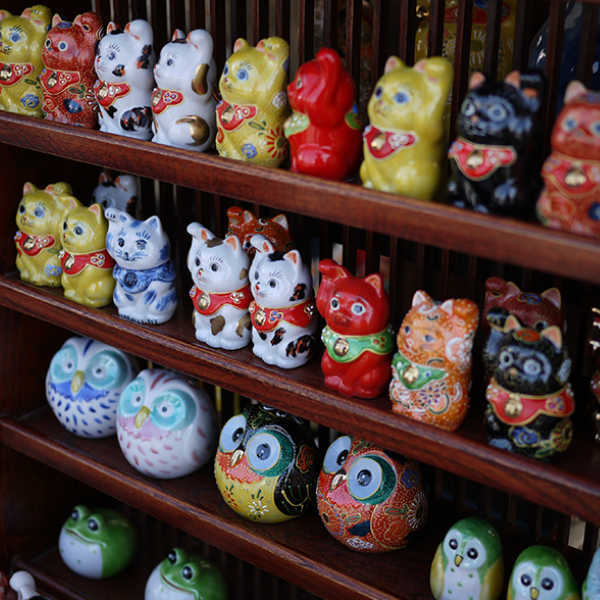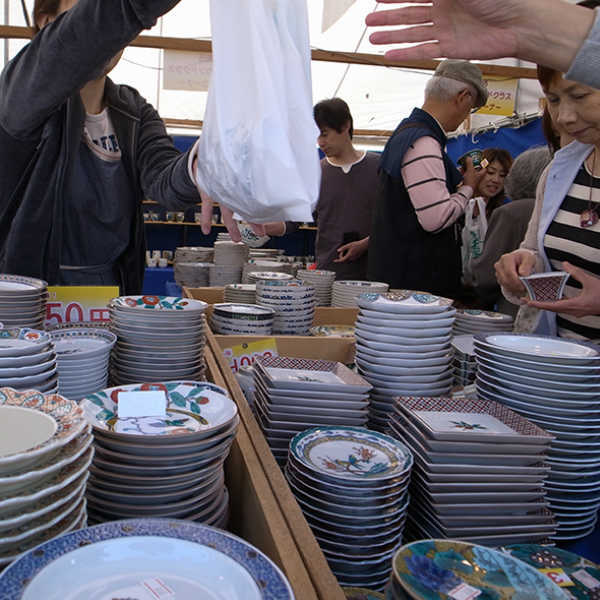 Some amusements also will please you

Next to the open market, they hold some fun amusements to promote Kutani-Yaki, such as auction to sell masterpieces, a lottery, valuation antique stuff, and selling special food served on Kutani-Yaki wares. Don't you think it's amazing to see the practical way?
Besides concerts by students and taiko (traditional Japanese drums) performance will liven up the event. There are also vendors selling festival food, drinks or toys. So take your child with you!
Oh, you can try painting one of the wares there. It's a great opportunity to color your own Kutani. Just so you know, the details of amusements are somewhat changed every year.
During this big event, you can visit some Kutani-Yaki museums in the city for free. Well... what are you waiting for? Plan your trip to Nomi City!