Strolling Kanazawa in Rental Kimono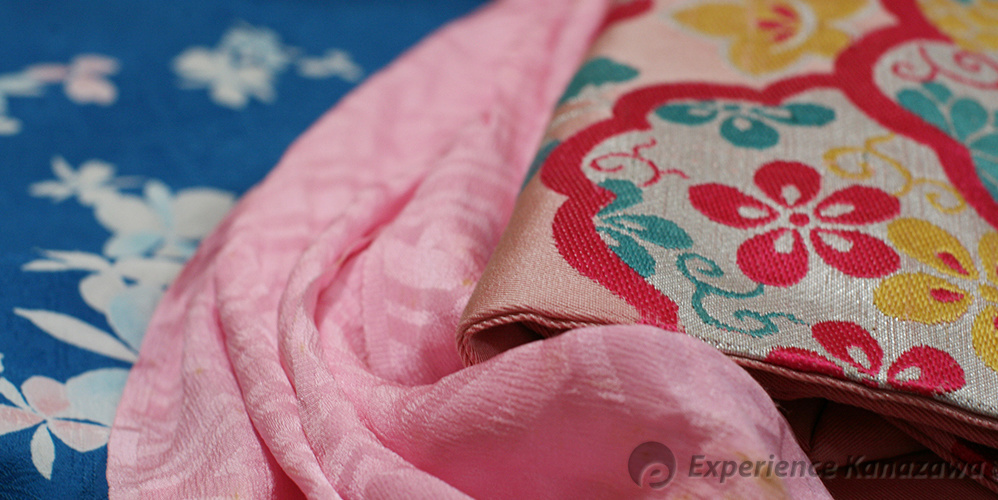 To fulfill a wild fantasy, to feel like a Japanese princess for a day

We have all marveled at them, sensed their elegant nature and perhaps even touched one. I was lucky enough to have the wonderful opportunity to not only wear one but also stroll the streets in a beautiful Kimono. My name is Rajie Kabli and I am an Indo-Canadian who has lived in Kanazawa for the past 8 months. Recently I was allowed the pleasure to fulfill a wild fantasy of mine, to feel like a Japanese princess for a day and I would like to share this experience with you.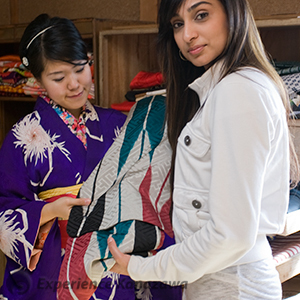 As women, we can sometimes be quite picky with such things as our shoes, accessories and kimonos!
The day started off with me being welcomed into a rental Kimono shop called Kokoyui by an exquisitely dressed porcelain doll like figure name Haruka, who was the young owner of the shop. Just like a cute anime character was her voice that welcomed me into her shop which was adorned with traditional Japanese art and clearly the perfect setting for some Kimono magic to happen. I could feel the excitement growing within. After taking my coat and making me feel comfortable (it was very helpful that she spoke some English, as my Japanese is not the greatest) I was whisked upstairs for the fun to begin! Just like feasting your eyes on your favorite food and getting to choose your heart's desire was what picking the perfect kimono felt like. As women, we can sometimes be quite picky with such things as our shoes, accessories and kimonos! Haruka was so helpful and kind everytime I said "oh, that's nice" and "what about this one?" and "Oh! This is so nice!" I was a kid in a candy store. Having her be so knowledgeable about her business and her products was impressive. I loved that I could learn to decipher which kimonos were antique type, those that were worn in the summer, some that were higher end and which prints were commonly worn in certain historical periods as I perused the many kimons she had.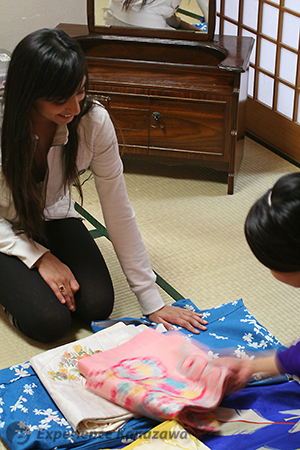 As I'm listening, asking questions and holding kimonos up to myself in front of a mirror she would add in her opinion as to what she thought looked nice on me, but in true Japanese fashion left the decision entirely up to me. Finally, after some humming and hawing I decided on this gorgeous blue and pink one. Just when I thought the hard part was over we had kimono "accessories" to pick out as well.
The cool thing about kimonos is that just like any other outfit one picks out you can mix and match the scarf and rope called an obi-jime to bond the obi to the kimono.
Obi-jime is tied over the obi which goes over the kimono. The obi is typically made from very stiff, heavy silk and is usually about ten or twelve feet long and is wound around the waist at least twice and tied with wonderful, decorative bows at the back. Just like picking an outfit for a night out on the town my kimono was laid on the floor with my handpicked accessories on top.
Finally, all prep was done and we could start the tedious task of putting it on.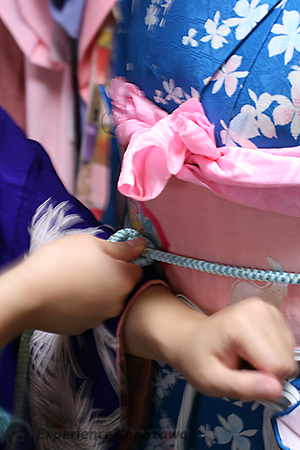 ---
The sexy emphasis is transferred especially to the back of the neck and hands.

We started with my feet. When wearing a kimono a special shoe or rather sandal called geta are typically worn. To wear this type of footwear a split toe sock called tabi is best used.
It was a bit funny to look down to see my feet look like they belonged to some sort of amphibian species but it soon made sense after I put on the geta and realized the practicality of the tabi. Once socks were on it was time to fully undress and prepare for the t shaped gown and bonding ropes. After undressing and having a Japanese undergarment gown tied into place, two small towels were placed on my shoulders and over my chest to create a straight silhouette. The woman's body is flattened and it helps keeps her posture erect. The sexy emphasis is transferred especially to the back of the neck and hands. No other skin is visible. There is no emphasis on the bust or the waist. It is all about elegance and control, hence the removal of all "shape". I tried to keep count of how many times things were being wrapped around and tied at the waist but I lost count. This process reminded me of wearing a corset as I could feel my back immediately straighten out and my waist being synched. It also reminded me of wearing an Indian sari. The way it was being wrapped around and the essential nature of someone helping you put it on. The whole time as things are being tugged, pulled, tightened and tucked I cant help but wonder how much strength is coming from this little body that is moving with incredible precision and skills around my form.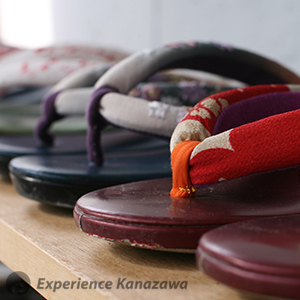 I'm loving every second of it as I'm seeing how it's all unfolding in front of me in the mirror. It is something like an origami being delicately folded into place.
Finally, it's done. I do a once around in the mirror to take in this new sight of myself. I feel incredibly famine and regal.Just as I am admiring the craftsmanship I was taken to the back of the shop where I am sat down in front of a mirror and asked to choose which hair style I would like. Beaming from ear to ear I eagerly browsed through the pictures of up dues and carefully imagined which would look the best with the kimono. Hair is generally kept up when wearing a kimono as the nape of the neck is considered visually pleasing. The hands and back of the neck are the only skin seen when wearing a kimono. That is why it is important when putting on a kimono that the collar is deep set and wide in the back. This can be done with clothes pins holding the back collar in place until the kimono is fully tied and one is ready to leave the house.
She did a great job with my hair and I was more than pleased with the final outcome. To top it all off she put a beautiful pink flower clip in my hair that accentuated the kimono and the up due. A little touch up of make-up and I was ready to hit the streets and take a stroll through Kanazawa's castle and garden and for the first time visit its Jinja or shrine which was also close to Kinjo Reitaku ( the spring the name "Kanazawa" originated from).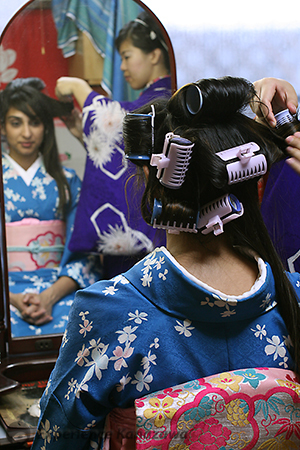 *
Renting a kimono and strolling in it was a great idea! What better way to experience authentic Japanese culture and elegance. The kimono rental shop even allowed me to create my own photo album to keep the memories, how cool.
Rajie Kabli / Published: March 30, 2011