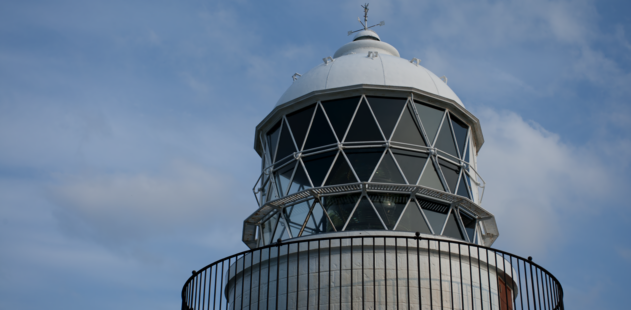 On the northernmost tip of Noto Peninsula, a white lighthouse stands as the landmark of a quiet village.
If you are interested in the Noto Peninsula, and want to head for the very tip of the land, Rokkosaki cape is the point to be. It's in Noroshi-machi, Suzu city. No wonder the town is named "noroshi" which means smoke signals. It has been know as a "smoke signal spot" for marine transportation since the olden times. After the age of those primitive ways for communication, a beautiful white lighthouse was built, and it lit up the ocean for safe sea travel. The lighthouse is so-called "noroshi-no-tohdai" meaning a lighthouse of smoke signals or a lighthouse of noroshi town. The scenery from the cape is breathtaking.
By SHIZUO / Published: Mar 28, 2013


How to get to Rokkosaki Cape
<<Hokutetsu Express Bus to the Noto Peninsula>>
From Kanazawa to Suzu City: Kanazawa-Suzu Line (珠洲特急) *Suzu Hachigasaki (珠洲鉢が崎) stop
From Hachigasaki to Rokkosaki: Hokutetsu Okunoto Bus "Kinoura Line" (北鉄奥能登バス木ノ浦線) *Noroshi (狼煙) stop
The lighthouse was built during the Meiji period,
and it was actually designed by a British national.

Most lenses inside of lighthouses revolve by themselves. However this lighthouse has a "fixed" lens that was made in France, which means the lens itself doesn't revolve, but the shield surrounding the lens does. It was designed by a British engineer in 1883. This is the only lighthouse in Japan to have such a unique structure. No wonder it has been awarded as one of the top 50 lighthouses in Japan. The white exterior color is set off by the heavenly azure sky!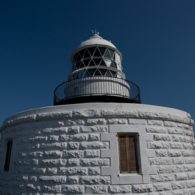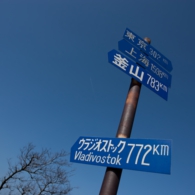 It's located at 37° 31′ 44″ N, and 137° 19′ 35″ E. Truly the northernmost tip of the peninsula.
There is a slope from Route 28 (prefectural highway) to the hilly cape. Get off the local bus at the Noroshi stop, or park your vehicle in the parking lot at the foot of the hill! After a five-minute-walk along the slope, you will begin to smell the ocean, soon after which you will finally arrive at the northernmost point of the peninsula! Yahoo! Check an indicator for directions, such as Tokyo (302km), Vladivostock (772km), Pusan (783km), or Shanghai (1598km) just for fun!
It is well-known as the spot where you can see both the sunrise and the sunset over the sea!
Rokkosaki is actually located in the Noto Peninsula Quasi-National Park which has beautiful scenery. It's well-known as a spot where you can see both of the sun rising from the sea in the morning, and setting into the sea in the evening. Though this cape is popular for Japanese tourists, Noroshi-machi town is pretty isolated in the peninsula as you can see. You won't feel it's touristy at all. Just enjoy a slow trip!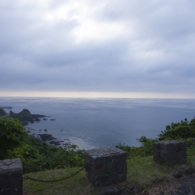 Kanazawa Area
Kenroku-En Garden
Seisonkaku Villa
Kanazawa-Jo Castle
Hishi-Yagura/<br>Gojikken-Nagaya/<br>Hashizume-Mon Tsuzuki-Yagura Museum
Chaya-Gai<br>Geisha Districts
Nagamachi Buke-Yashiki-Ato (Previous Samurai District)
21st Century Museum of<br> Contemporary Art, <br>Kanazawa
Nomura-Ke<br>Samurai House
Yuwaku Onsen-Kyo Spa Village
Kanazawa Yuwaku Edo-Mura Museum
Following Matsuo Bashô's steps in Ishikawa - 1/6 [Introduction]
Following Matsuo Bashô's steps in Ishikawa - 2/6 [Kanazawa]
Light-Up Bus
---
Noto Area
Rokkosaki Cape
Mitsukejima Island
Day Trip from Kanazawa #01-Wakura-Onsen Spa Town Nanao City
Day Trip from Kanazawa #01-Ipponsugi Dohri Street Nanao City
Noto-Jima Glass Art Museum
Wajima Asaichi Morning Market
Sohjiji Soin Temple
---
Kaga Area
Komatsu Experience
Shirayama Hime-Jinja Shrine
Daishoji District
Kaga-Hashidate District
Higashitani Mountainous Area
Following Matsuo Bashô's steps in Ishikawa - 3/6 [Komatsu City]
Following Matsuo Bashô's steps in Ishikawa - 4/6 [Natadera Temple]
Following Matsuo Bashô's steps in Ishikawa - 5/6 [Yamanaka Onsen Town]
Following Matsuo Bashô's steps in Ishikawa - 6/6 [Daishoji District]
Rosanjin in Yamashiro Onsen Town
Event
Enyukai: Geisha Party
Geisha Performance with Dinner
Sunday Zazen Session
---

Custom
Shintoism
---
Arts and Crafts
Yamanaka Shikki: <br>Lacquer Ware made in Yamanaka
Wajima Nuri<br>Lacquerware
Wagasa<br>(Traditional Umbrella)
Kaga Temari<br>(Traditional Handball)
Kaga-Yubinuki<br>(Traditional Thimble)
Kutani-Yaki<br>Porcelain
Aochibu Blue Dot(br)Kutani Artist - Kingyoku Nakata
Kaga Hachiman Okiagari<br> Paper Doll
Kaga Kebari<br>Feather Bait
Stroll Kanazawa in Rental Kimono - 1/2 [Renting kimono]
Stroll Kanazawa in Rental Kimono - 2/2 [Strolling in Kimono]
Shops
Stroll Kanazawa in Rental Kimono - 1/2 [Renting kimono]
Stroll Kanazawa in Rental Kimono - 2/2 [Strolling in Kimono]
Sunday Zazen-Session
Paragliding
Snowboarding
Pottery-Making
---