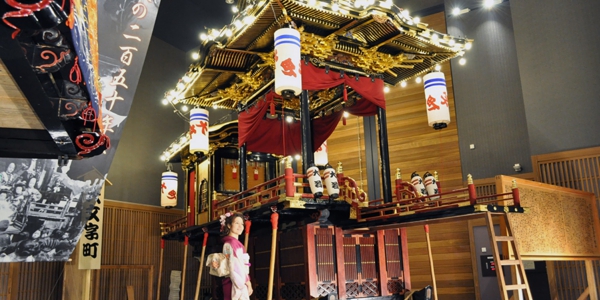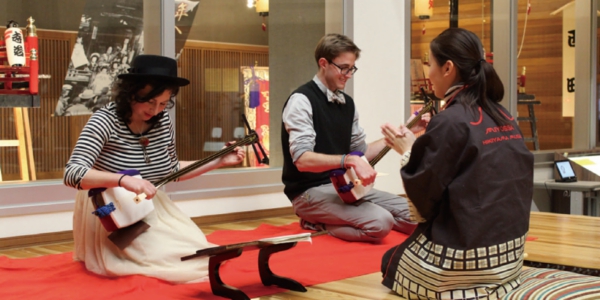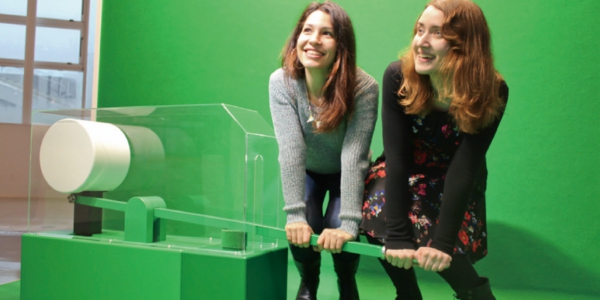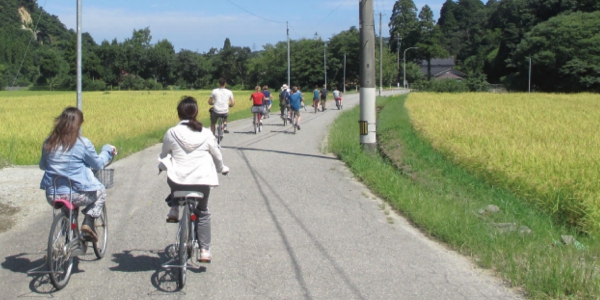 I am sure it can be a day filled with rich experiences!
"To me, what makes Komatsu special is that, once in the city, you can have easy access to many experiences as soon as you leave from Komatsu Station. The West exit is the gate of traditional Japan. Just through that gate I can wear a Kimono, play the shamisen, dance traditional dances or taste Japanese sweets. Or just enjoy the atmosphere strolling on Machiya (the Edo-Period town houses district). The city looks and feels like an outdoor museum, yet people actually live in those houses! If the West exit is the traditional gate, the East exit of Komatsu station is the technology gate. Did you know the largest 3D dome-theater in Japan, and the world's second largest hi-tech dump truck is located here? With the past and future blended within just a few minutes walk from the station, I am sure for visitors it can be a day filled with rich experiences!"
by Raffaele Jaffar, Komatsu City
'
s CIR (Coordinator for International Relations)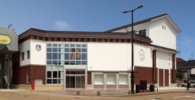 Hikiyama Museum MIYOSSA
こまつ曳山交流会館みよっさ
Hikiyama Gallery MIYOSSA is the iconic facility for Kabuki in Komatsu. 'MIYOSSA' means 'let's try' in the Komatsu regional dialect. There are many hands-on traditional activities to enjoy.
---
Business hours: 10:00-17:00
Closed: Every Wednesday from Dec to March, and New Year (December 30 - January 1)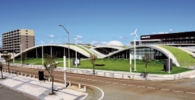 Science Hills Komatsu
サイエンスヒルズこまつ
Science Hills Komatsu is a center for experiencing the wonders of science and technology developed in conjunction with companies in Komatsu.
---
Business hours: 9:30-18:00
*Entry closes 17:00
Closed: Monday (Tuesday when Monday is a national holiday); Open throughout the summer and Golden Week.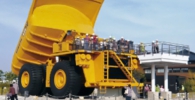 Komatsu-no-Mori こまつの杜
Komatsu is a world famous producer of construction machinery. At Komatsu-no-Mori, see and get on the 930E, one of the world's largest dump trucks.
---
Business hours: 9:00-16:30
*Entry closes 16:00
Closed: Monday, Sunday and 5th Saturday of the Month
Free admission
PDF Brochure for downloading:
---

Komatsu Experience Inquiries and Reservations
Please contact Komatsu City for enquiries and reservations in English.
TEL: 0761-24-8369
(09:00-17:00 / weekdays only) /

E-mail
---
Komatsu Travel Navigation


http://www.komatsuguide.jp/index.php/top/index/en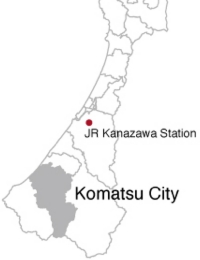 20 minutes or less from Kanazawa.
Komatsu city is located south of Ishikawa. If you have a
JR Rail Pass
, we definitely recommend you to take a train from Kanazawa station to get there! It
's 20 minutes or less by an express train. Or you can directly fly from Tokyo, Fukuoka, Sendai, Sapporo, Naha, Taipei, Shanghai or Seoul to Komatsu Airport.
This city is actually a manufacturing-friendly city, thus many business men visit the factories. The factories went global year after year. As a result, many foreigners also live in this city for job. They fit in with the local people, and local people learn cultural globalization from them.

Kanazawa Area
Kenroku-En Garden
Seisonkaku Villa
Kanazawa-Jo Castle
Hishi-Yagura/<br>Gojikken-Nagaya/<br>Hashizume-Mon Tsuzuki-Yagura Museum
Chaya-Gai<br>Geisha Districts
Nagamachi Buke-Yashiki-Ato (Previous Samurai District)
21st Century Museum of<br> Contemporary Art, <br>Kanazawa
Nomura-Ke<br>Samurai House
Yuwaku Onsen-Kyo Spa Village
Kanazawa Yuwaku Edo-Mura Museum
Following Matsuo Bashô's steps in Ishikawa - 1/6 [Introduction]
Following Matsuo Bashô's steps in Ishikawa - 2/6 [Kanazawa]
Light-Up Bus
---
Noto Area
Rokkosaki Cape
Mitsukejima Island
Day Trip from Kanazawa #01-Wakura-Onsen Spa Town Nanao City
Day Trip from Kanazawa #01-Ipponsugi Dohri Street Nanao City
Noto-Jima Glass Art Museum
Wajima Asaichi Morning Market
Sohjiji Soin Temple
---
Kaga Area
Komatsu Experience
Shirayama Hime-Jinja Shrine
Daishoji District
Kaga-Hashidate District
Higashitani Mountainous Area
Following Matsuo Bashô's steps in Ishikawa - 3/6 [Komatsu City]
Following Matsuo Bashô's steps in Ishikawa - 4/6 [Natadera Temple]
Following Matsuo Bashô's steps in Ishikawa - 5/6 [Yamanaka Onsen Town]
Following Matsuo Bashô's steps in Ishikawa - 6/6 [Daishoji District]
Rosanjin in Yamashiro Onsen Town
Event
Enyukai: Geisha Party
Geisha Performance with Dinner
Sunday Zazen Session
---

Custom
Shintoism
---
Arts and Crafts
Yamanaka Shikki: <br>Lacquer Ware made in Yamanaka
Wajima Nuri<br>Lacquerware
Wagasa<br>(Traditional Umbrella)
Kaga Temari<br>(Traditional Handball)
Kaga-Yubinuki<br>(Traditional Thimble)
Kutani-Yaki<br>Porcelain
Aochibu Blue Dot(br)Kutani Artist - Kingyoku Nakata
Kaga Hachiman Okiagari<br> Paper Doll
Kaga Kebari<br>Feather Bait
Stroll Kanazawa in Rental Kimono - 1/2 [Renting kimono]
Stroll Kanazawa in Rental Kimono - 2/2 [Strolling in Kimono]
Shops
Stroll Kanazawa in Rental Kimono - 1/2 [Renting kimono]
Stroll Kanazawa in Rental Kimono - 2/2 [Strolling in Kimono]
Sunday Zazen-Session
Paragliding
Snowboarding
Pottery-Making
---