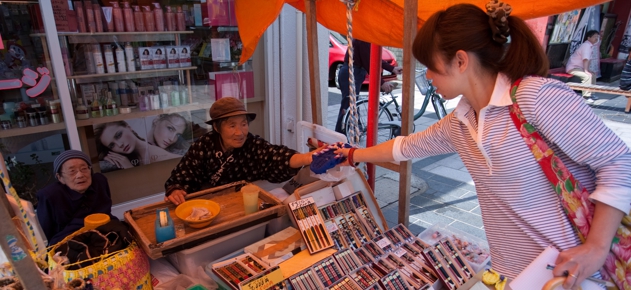 An agricultural and fishing city that is also well known for its lacquerware.
Wajima is located on the tip of the Noto Peninsula. It is nestled by mountains and looks out onto the Japan Sea. It is an agricultural and fishing city. Wajima is also well known for its lacquerware. Making Wajima lacquerware requires refined skills and time-consuming steps. The art of lacquerware has been mostly practiced by male craftsmen throughout history. Consequently, most women of Wajima are in charge of farming, fishing or other labor-intensive work. One of the more famous professions here in Wajima is 'women under the sea,' also known as female deep-sea diving. Without any oxygen tanks, these women deep-sea dive for conch and abalone. This unique profession has been passed down from generation to generation for centuries. With the men producing lacquerware and the women working outdoors, it was the women who would meet in the mornings to trade or barter goods to secure whatever they needed. This is how the original Wajima market came into being. This 1000-year-old tradition continues today, and the Wajima morning market is one of the most famous and oldest morning markets in Japan.
By Wawa / Published: June 25, 2012
Wajima Morning Market
Place: Asaichi-Dohri street, Wajima City, Noto Peninsula
Open: 8:00-12:00; Closed the 10th and 25th of every month, and the first three days of New Year
How to get to Wajima City: Hokutetsu Express Bus "Kanazawa-Wajima Line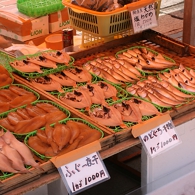 Full of surprises and fun!

Today, the Wajima Asaichi morning market is famous for its fresh local fish, produce, and of course, lacquerware. If you are unable to bring food home with you, not to worry. There are still plenty of great local places to eat, along with beautiful local handicrafts. You will find that the Wajima morning market is full of surprises and fun.
*

As soon as you enter the market‭, ‬you will see a shop called‭ ‬"Tatami."‭ ‬They sell
traditional Japanese socks
called‭
‬"tabi."
‭ ‬‬Those are ankle‭-high‭ ‬with one separation between the big toe and the others‭. ‬These‭ ‬are extremely comfortable‭, ‬and especially good for‭ ‬people struggling with bunions‭. ‬
Tabi
are also essential for ‬kimono coordinates‭. ‬The most common
tabi
color is white, by the way‭. ‬They are comfortable and elegant‭, ‬not to mention‭ ‬my own personal favorite type of socks‭.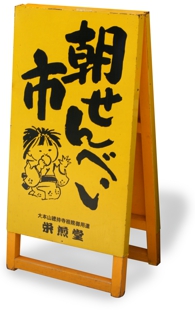 These savory salty crackers also go great with red wine.

Besides the fresh seafood, one of the most famous souvenirs in the market is
"shio-senbei," I think.
Senbei
is a Japanese rice cracker. The most well-known shop in the market is "Eisendou."
Eisendou started the business by making special thin noodles which were often used for celebrating birthdays. About
60 years ago, Eisendou stopped making those noodles and switched to making
senbei.

With their refined careers for making thin noodles, Eisendou has finally created
senbei
in various shapes, sizes, and flavors, such as with pine nuts, cashew nuts,
peanuts,
seaweed, dried shrimp, and sesame.
The shop owner is quite friendly and was more than happy to let the customers sample their crackers. He is easy to talk to, and
we enjoyed chatting for a while.
I bought some for my family, but in the end he gave me more for free
! How generous!
These savory salty crackers also go great with red wine.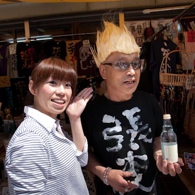 Don't forget to take pictures with Wajima's "Super Saiyan"!

Another interesting shop I recommend you to visit is "Tezukuri Suzuki."
It's funny, the shop owner always wears a golden Mohawk wig that makes him look like the famous Japanese animation character "Super Saiyan." Don't forget to take pictures with him! He loves it! There are tons of T-shirts sold in the shop, and those are all designed by his daughter. Amazing!

They sell not only
T-shirts, but also many Japanese style goods, such as Kaga Yuzen handkerchiefs. There are so many unique stuff waiting to be found by you.

Also, if you play your cards right, you will be successful in negotiating
with the Super Saiyan
for a small discount.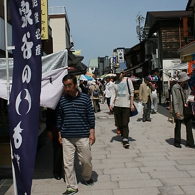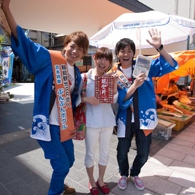 Instead of using the chopsticks, the sashimi here is served over on skewers.

"Asaichi Sakaba" has been open since March 25th, 2012. Its specialty is the fresh
sashimi
(raw fish).
When people usually come to Wajima morning market, most people would get the fresh seafood to take them home.
Although foreign tourists can't do that, this bar offers you another wonderful option. They will definitely satisfy your
sashimi
craving.
T
herefore visiting this
sashimi
bar is a good idea for tourists to easily try fresh raw fish as a snack.
The shop owner has invented a special way to eat the sashimi. Instead of using the chopsticks, the
sashimi
here in Asaichi Sakaba is served over on skewers. In this way, customers can easily pick up the
sashimi
and dip them into the soy sauce. (Great news for the people who are weak in using chopsticks, huh?). Also you can try different types of soy sauce to go with your
sashimi
.

The two most popular choices of soy sauce in the shop are Kikkoman and Sakura brands' soy sauce. Sakura
shoyu
is a local brewed soy sauce in Wajima. I highly recommend Sakura brand's. It tastes sweets and goes well with raw fish. This
sashimi
bar also offers a variety of local brewed
sake
. Try them!
Antique shop with wonderful collections.

If you are interested in
Japanese old stuff, stop by an antique shop on the street.
"Shugodo" has
a bunch of old items,
such as
sake
cups, bowls, coins,
pipes, and fishing floats made of glasses
.
You will find not only small items,
but also the museum-like items.
Yoroi
armor which is used to be worn by a samurai,
kotatsu
(Japanese traditional low table with heater), and vases. It is a great opportunity for antique fans to explore. You might find your own personal treasure!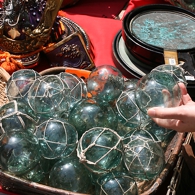 Earrings, necklaces and breast pins decorated with natural lacquer.

Though there are many shops selling lacquer wares on the street, you might think that most of them are dinning wares. If you are not interested in lacquer wares for dining at all, you can also find many cute accessories decorated with natural lacquer, such as earrings, necklaces and breast pins.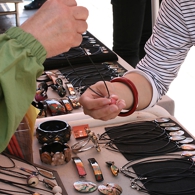 If you are worried about maintenance of wooden lacquer ware, how about "cloth" one?

I also want to recommend you lacquered table ware made of "cloth." They are light and also water-resistant,
so are much easier for maintenance comparing with wooden ones. Wooden lacquer ware are sensitive as you know. As far as I am concerned, I especially prefer this bright-red plate. I confess that I am not a great cook.
Whenever I cooked and served the dishes on those lovely plates, luckily I feel like a professional chef who can create 5-star meals!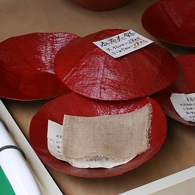 Try some samples before you buy those preserved seafood!

Wajima is well-known for its scallops and conches. They are usually caught between July and September, so this is the only season you can enjoy fresh ones as
sashimi
(served in the raw). I used to love those shell fish
sashimi,
until I found out that the steamed salty ones taste much better. The
scallops and conches, sold at the little shop owned by Mrs. Toshima, taste amazing! Those are the best I have ever tried.
She is a sweet lady, and the shell fish she cooked are unbelievable.
Here are some basic information about the salty scallops. If you eat up within a few days, just keep them at room temperature! Within 7 to 10 days, then put in a fridge! Or you can preserve them
in a freezer
for a few months.
[The average price]
*Rough prices per 100g

Akanishi clams: 1,000 yen
Wajima's steamed salty scallops: 8,400 yen
Australian steamed salty scallops: 6,300 yen
Full of great food and friendly people! This morning market is worth to visit!
Wajima morning market is full of great food and friendly people. When you visit the market, please try to talk to the local people. They might be shy at the beginning, but once they know you, they will be willing to offer you their help and warm hospitality. In addition, there are so many lovely small streets around the market. Try to explore and join our real life in Wajima city!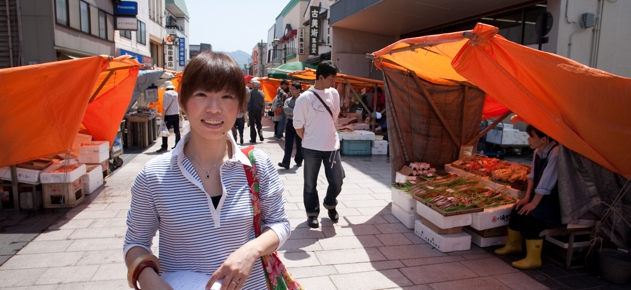 Wawa (Kao Chen-Lien), who is originally from Taiwan, lives in Wajima City with her family.
Kanazawa Area
Kenroku-En Garden
Seisonkaku Villa
Kanazawa-Jo Castle
Hishi-Yagura/<br>Gojikken-Nagaya/<br>Hashizume-Mon Tsuzuki-Yagura Museum
Chaya-Gai<br>Geisha Districts
Nagamachi Buke-Yashiki-Ato (Previous Samurai District)
21st Century Museum of<br> Contemporary Art, <br>Kanazawa
Nomura-Ke<br>Samurai House
Yuwaku Onsen-Kyo Spa Village
Kanazawa Yuwaku Edo-Mura Museum
Following Matsuo Bashô's steps in Ishikawa - 1/6 [Introduction]
Following Matsuo Bashô's steps in Ishikawa - 2/6 [Kanazawa]
Light-Up Bus
---
Noto Area
Rokkosaki Cape
Mitsukejima Island
Day Trip from Kanazawa #01-Wakura-Onsen Spa Town Nanao City
Day Trip from Kanazawa #01-Ipponsugi Dohri Street Nanao City
Noto-Jima Glass Art Museum
Wajima Asaichi Morning Market
Sohjiji Soin Temple
---
Kaga Area
Komatsu Experience
Shirayama Hime-Jinja Shrine
Daishoji District
Kaga-Hashidate District
Higashitani Mountainous Area
Following Matsuo Bashô's steps in Ishikawa - 3/6 [Komatsu City]
Following Matsuo Bashô's steps in Ishikawa - 4/6 [Natadera Temple]
Following Matsuo Bashô's steps in Ishikawa - 5/6 [Yamanaka Onsen Town]
Following Matsuo Bashô's steps in Ishikawa - 6/6 [Daishoji District]
Rosanjin in Yamashiro Onsen Town
Event
Enyukai: Geisha Party
Geisha Performance with Dinner
Sunday Zazen Session
---

Custom
Shintoism
---
Arts and Crafts
Yamanaka Shikki: <br>Lacquer Ware made in Yamanaka
Wajima Nuri<br>Lacquerware
Wagasa<br>(Traditional Umbrella)
Kaga Temari<br>(Traditional Handball)
Kaga-Yubinuki<br>(Traditional Thimble)
Kutani-Yaki<br>Porcelain
Aochibu Blue Dot(br)Kutani Artist - Kingyoku Nakata
Kaga Hachiman Okiagari<br> Paper Doll
Kaga Kebari<br>Feather Bait
Stroll Kanazawa in Rental Kimono - 1/2 [Renting kimono]
Stroll Kanazawa in Rental Kimono - 2/2 [Strolling in Kimono]
Shops
Stroll Kanazawa in Rental Kimono - 1/2 [Renting kimono]
Stroll Kanazawa in Rental Kimono - 2/2 [Strolling in Kimono]
Sunday Zazen-Session
Paragliding
Snowboarding
Pottery-Making
---